Fit For Trade are on hand to assist you with any queries you may have relating to gaining site access and/or the appropriate qualification route to your CSCS card. We are approved to deliver the GQA Qualifications Health & Safety Assessment, application and distribution of relevant industry specific CSCS Cards.
CSCS Cards provide site contractors and housing development sites proof that individuals have the training and qualifications suitable for the type of work they perform. Most principal contractors and building development sites require construction-area workers to hold a valid CSCS card which cover a minimal requirement for skilled worker or supervisor levels.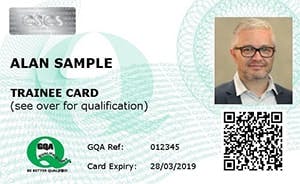 Temporary
Primarily aimed at those already employed within industry, and with verifiable experience. The card is valid for 12 months from the date of issue and cannot be renewed.
Trainee
Primarily aimed at new entrants to the industry, including Apprentices, this card is valid for 24 months from the date of issue and cannot be renewed.
Full
This card is issued based on achievement of a role specific qualification and is valid for 5 years from the date of issue. Full cards can be renewed, the current requirement is for the cardholder to complete either the CITB Health, Safety and Environmental touch screen test or the GQA Health and Safety assessment paper.